Resume/Vitae for Michael Friedrichs, M.S.C.P., Ph.D.
In Memoriam
Co-Founder of New Leaves Clinic
(1966-2016)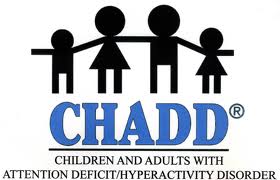 Dr. Friedrichs is a Lifetime Member of CHADD
Education:
2004 Licensed Psychologist – Clinical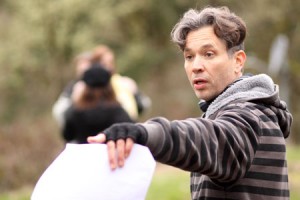 Oregon (1594)
2002-2003 Post-Doctoral Residency
Deer Oaks Mental Health Associates, Texas
2001-2002 Pre-Doctoral Internship
Lifeworks Northwest (Tualatin Valley Centers) (APA Accredited), Oregon
1997-2002 Ph.D., Clinical Psychology
Pacific Graduate School of Psychology (APA Accredited), Palo Alto, California
1997-2001 M.S., Clinical Psychology
Pacific Graduate School of Psychology (APA Accredited), Palo Alto, California
1994-1996 M.S., Counseling Psychology
Chaminade University, Honolulu, Hawaii
1988-1989 U.S. Air Force – Officer Intelligence School
3480th Technical Training Wing, Goodfellow AFB, Texas
1988 Top Secret Security Clearance (positive character investigation)
1984-1988 B.S., Aerospace Engineering
University of Michigan, Ann Arbor, Michigan
Honors and Awards:
| | |
| --- | --- |
| 2001 | Alan and Nancy Schatzberg Assistantship (Alan F. Schatzberg, M.D., Stanford University Department of Psychiatry) |
| 1995-1996 | Psi Chi President (Chaminade University Chapter) |
| 1995 | Psi Chi (National Honor Society of Psychology) |
| 1994 | Air Force Joint Service Achievement Medal |
| 1991 | Air Force Commendation Medal |
| 1984-1988 | Reserve Officer Training Corps (ROTC)                                    Full Scholarship (University of Michigan) |
| 1984 | Suma Cum Laude (Waterford Mott High School) |
| 1980-1984 | National Honor Society (Waterford Mott High School) |
Clinical Experience:
2004-Present New Leaves Clinic
Portland, Oregon
I co-founded New Leaves Clinic and currently work as a licensed clinical psychologist for this company.
2004-2006 Senior Connections
Vancouver, Washington
I served as a Clinical Team Supervisor in several nursing homes in Washington State until November, 2005. This entailed providing supervision over a staff of master's-level clinicians. In addition to performing psychological intakes and seeing patients, my supervisory duties included case conferences, training, clinical oversight, corrective feedback and other aspects of personnel management. After 2005 I functioned independently, forming a very warm relationship with nursing and social services staff in a single nursing facility. This work involved consulting with family members, nursing staff and primary care physicians to ensure the best level of care for senior citizens in their care.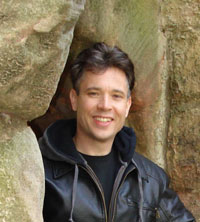 2002-2003 Deer Oaks Mental Health Associates – Post-Doctoral Residency
San Antonio, Texas
Accredited by the American Psychological Association
As a postdoctoral resident, I performed the diverse functions of a psychologist preparing for licensure. This included marketing, conducting psychotherapy with nursing home residents, neuropsychological assessment of the elderly and organically impaired, report writing, charting, and consultation with family, nursing staff, and primary care physicians. I also conducted personality and cognitive assessments of children for the Texas Department of Protection and Regulatory Services (TDPRS). During this time I worked within the managed care paradigm, which included extensive outreach to nursing and child placement homes across the Texas gulf bend area.
2001-2002 Tualatin Valley Centers – Pre-Doctoral Internship
Portland, Oregon
Accredited by the American Psychological Association
As a doctoral intern, I provided psychotherapy, neuropsychological assessment, and medications management consultation for the elderly. Also, I facilitated day-treatment groups for older adults with acute emotional disturbance and chronic mental disorders (e.g., schizophrenia, severe head trauma, and advanced Alzheimer's disease). Day-treatment included individual and group therapies, activity planning, medication management, and daily living skills training. In addition to my work with the elderly, I provided solution-focused psychotherapy to individuals and families in an outpatient clinic setting. I also produced learning disability assessments for the state vocational program, as well as adult and child psychological assessment batteries. Finally, I co-facilitated Dialectical Behavioral Therapy (DBT) groups for clients struggling with Borderline Personality Disorder.
2000-2001 Veterans Administration
Palo Alto, California
Working as a practicum student on the VA's Psychological Assessment Unit, I functioned as a neuropsychometrist in a medical outpatient setting. This included providing in-depth neuropsychological assessment (several hours in length), scoring, and treatment planning for patients with neurocognitive complications (e.g., head injury, Alzheimer's disease, cerebrovascular disease, brain cancer, etc.). I also attended neuropsychological rounds with medical interns, training conferences, and hands-on dissection labs featuring human brains in varied states of pathology.
2000 Veterans Administration
Monterey, California
Working in the Psychological and Behavioral Assessment Unit, I performed neuropsychological, psychological, and personality assessments upon request from medical, mental health, PTSD treatment teams and veterans outreach programs. As an extern, I diagnosed psychiatric disorders, conducted treatment planning, and wrote competency evaluations for veterans and active duty personnel.
1999-2000 San Jose Job Corps
San Jose, California
I worked mostly with Hispanic and Southeast Asian clientele at the number one Job Corps site in the nation on measures of job placement and successful program completion. I provided cognitive/behavioral psychotherapy to adolescents and young adults age 16 to 24, conducted skills training groups, led staff training seminars, and performed occasional psychological testing.
1999 Work with Renowned Psychiatrist and Author – Irvin Yalom, M.D.
Palo Alto, California
In fulfillment of my doctorate program's 16-hour psychotherapy requirement*, I had the opportunity to privately meet with Dr. Irvin Yalom at his home over the course of four months. Through my work with this bestselling author, group theorist, and existential psychotherapy pioneer, I was given the opportunity to experience the theoretical orientation that is the cornerstone of my practice as a psychotherapist.
*Doctoral psychology programs require that candidates undergo personal psychotherapy.
1998-2000 Neuropsychology Specialization at Pacific Graduate School of Psychology
Mountain View, California.
Over the course of two years, I completed 120 hours of direct neuropsychological test administration, scoring, and interpretation under the supervision of Dr. Amy Wisniewski (a noted neuropsychologist). I obtained proficiency in the administration and interpretation of numerous tests including the WAIS-III (IQ), Shipley IQ, Rorschach Inkblot, TAT, MMPI-2, MCMI, Benton, Cognistat, Boston Approach, Halstead-Reitan, Luria-Nebraska, CVLT, WMS-III, WCST, Rey Complex Figure, and dozens of other commonly used assessment tools.
1998-1999 Kurt & Barbara Gronowski Clinic
Palo Alto, California
I carried out intakes, wrote diagnostic reports, developed treatment plans, attended case conferences, and provided individual, couples, and family psychotherapy to adults.
1996-1997 Diamond Head Family Guidance Center – State of Hawaii Department of Health
Honolulu, Hawaii
As a Psychotherapist/Case Worker, I worked within the ethnic Hawaiian community providing care coordination, individual/family therapy, and home/school outreach (including IEP advocacy) to families, adolescents, and children of all ages.
1996 Tripler Army Medical Red Cross Center
Honolulu, Hawaii
I counseled low-functioning veterans with organic and stress-related disorders on a locked psychiatric ward. I also co-facilitated posttraumatic stress disorder (PTSD) groups as well as cognitive anger management groups.
1995-1996 Family Peace Center
Honolulu, Hawaii
I worked with Hawaiian and low-income families, providing individual counseling and co-facilitation of cognitive therapy groups for children ages 3-17. I also co-facilitated court-mandated cognitive anger management groups for adult male perpetrators of domestic violence.
1988-1996 U.S. Air Force – Decorated Captain
Texas, European Theater (Germany), Pacific Theater (Hawaii)
Note: This period represents a previous career, rather than an aspect of my psychological training.
After college I spent six years in command of troops and various defense projects during peace and war time. As an Intelligence Officer, my duties were to co-author intelligence reports (including one for President George Bush, Sr.). I provided routine intelligence briefings to senior military officials during national crisis, including the Commander-in-Chief of the Pacific Forces. I oversaw a multimillion dollar defense project, the JDISS computer system. I also created flight plans for U-2 spy aircraft. I made flight, hotel, and entertainment arrangements for over 50 multinational diplomatic conference participants in a foreign country. I also organized and carried out a command-wide picnic for the Commander of the Pacific Fleet and 1,000 soldiers and family members. I was honorably dischargedafter requesting permission to pursue the study of clinical psychology.

Teaching Experience:
2003-2004 Concordia University – Adjunct Faculty
Portland, Oregon
I taught sections of Abnormal Psychology, Adult Development, Counseling Theories, and Human Sexuality to undergraduate students. This job included preparing and presenting material to students, and grading of papers and tests.
2001 Pacific Graduate School of Psychology – Neuropsychology Teaching Assistant
Palo Alto, California
I acted as T.A. for two sections of an advanced course on the neurobiological bases of human behavior. Topics included neuroanatomical structures and functions, neuroendocrine regulation of behavior, neuronal bases of perception and attention, and hemispheric specialization. I graded tests and performed statistical analysis of student performance using SPSS (a statistics program). I also taught review classes before exams.
1996-1997 Chaminade University – Adjunct Faculty
Honolulu, Hawaii
I taught two sections of Psychology 101 to over forty undergraduate students. This job included preparing and presenting material to students, and grading of papers and tests. I also prepared and submitted complete curriculums for 13-week courses on both Existential Psychotherapy and Cognitive Psychology.
Research Experience:
1999-2001 Goal Discrepancy Theory and the Phenomenology of Grief Work in Older Women
Pacific Graduate School of Psychology
Palo Alto, California
In fulfillment of my dissertation requirement, I independently produced all aspects of an original research project including data collection (over a four-month period and involving 1,680 questionnaires). Research included piloting an infra-red triggered dream recording device, writing and drafting an exhaustive literature review (over 200 pages) on all facets of bereavement, grief work and dreaming, and within and between-group statistical analysis using hierarchical linear modeling (HLM).
1998-1999 Research on Bereavement
Pacific Graduate School of Psychology
Palo Alto, California
I assisted my dissertation advisor with an ongoing study of grief work therapy outcome. Duties included conducting journal research on bereavement models, attending weekly group discussions, and researching modern innovations in the field of thanatology (death studies).
1995-1997 Research on the Effects of Domestic Violence on Children
University of Hawaii
Honolulu, Hawaii
As a research assistant I conducted literature reviews, data analysis, and manuscript preparation. I also created and gave presentations for the purpose of disseminating research findings to professionals in the field of domestic violence.
Publications, Presentations and Seminars:
Field, N, & Friedrichs, M. (2004, September). Continuing bonds in coping with the death of a husband. Death Studies, 28(7)597-620.
Friedrichs, M. (2000, June). Understanding the impact of loss on young adults. Paper presented at San Jose Job Corps assembly, San Jose, CA.
Friedrichs, M. (2000). Grief work, new perspectives on a timeless process: A comprehensive literature review. Proceedings of the American Association for the Advancement of Science (AAAS), 19 (1), 46.
Friedrichs, M. (2000, June). Grief work, new perspectives on a timeless process: A comprehensive literature review. Paper presented at the meeting of the American Association for the Advancement of Science (AAAS), Ashland, OR.
Friedrichs, M. (2000, May). Neuropsychological theories on the origin and function of dreams. Poster presented at the meeting of the Pacific Research Forum, Palo Alto, CA.
Smith, D. C., & Friedrichs, M. (1996, January). The effects of domestic violence on the development of children. Paper presented at the meeting of the Hawaii Psychological Association, Honolulu, HI.
Smith, D. C., & Friedrichs, M. (1996, March). The effects of domestic violence on the development of children. Paper presented at the meeting of the Hawaii Mental Health Counselor's Association, Honolulu, HI.
I created and facilitated a Nationally Lauded Stress Management Group, which was presented at the 2001 National Job Corps Conference in Chicago as the model for other sites and agencies to follow. The group format was videotaped, cited and adopted by Job Corps leadership for having contributed to unprecedented success in bringing mental health services to the student body as well as supporting the general well being of hundreds of San Jose Job Corps students. This protocol is now being implemented at Job Corps nation wide.
I created an Internet Advice Column for children which ran from 1998-2003. It involved encouraging children to be creative and altruistic through fantasy writing, contests, working through personal dilemmas, and directing people to community services when appropriate.
I wrote and performed a Celtic harp musical score for a Stanford University Film Documentary on child abuse, April 1999.
I was the Creator, Writer, and Editor of the Chaminade University Master of Science in Counseling Psychology Quarterly Newsletter, 1994-1996.
Dr. Friedrichs has also written an acclaimed supernatural romance novel that is soon to be a major motion picture!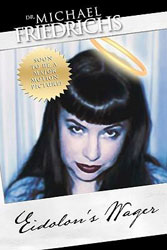 When Dr. Victor Albrecht moves to Portland, Oregon, he's caught between a friend's seductive fiancé and a suicidal young gothic patient with whom he's fallen in love. The deeper he explores his patient's psyche, the bolder his own demons become – until the roles of doctor and patient are reversed. Eidolon's Wager takes you on an exhilarating journey through Portland's dark music underground, as Victor learns that devils are sometimes the people we trust, and Enochian angels lurk in the shadows. Culminating at the Burning Man festival in Nevada, it's a story about father issues, drugs, sex, and the extent to which we betray ourselves for love. A book for our times with a delightful dose of satire, Eidolon's Wager will thrill and transform you with its messages of hope and redemption.
Checkout our Facebook Fan page
Order on Amazon
Professional Affiliations:
Read the full biography of Michael Friedrichs, M.S.C.P., PH.D.
Read about Michael Friedrichs's Accolades